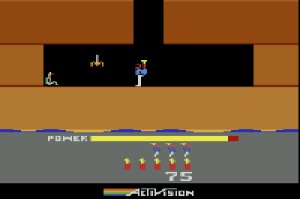 Hi All,
Here is another version (and i hope the last one) of PSP2600 the Atari 2600
emulator running on PSP.
What's new in this version ? Mainly bug fix :
- Bug fix in the render mode Max and x1.25
- New default mapping for the keyboard in order to
use the analog/digital swap feature.
It has been developped on linux for Firmware 1.5 and i hope it works also
for 2.x using the great eloader (0.99x) from http://www.noobz.eu/.
How to use it ? Everything is in the README.txt file.
Sources are included, and this package is under the GNU public license,
read COPYING.txt file for more information about it.
**
Many thanks Poem58 for his help and support ! **
psp2600-v1.0.3.zip
Enjoy,
Zx.
If you want to discuss on this emulator, you can do it here :
zx81's forum on dcemu network