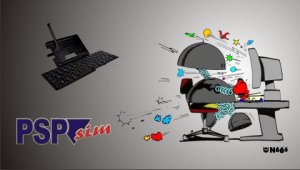 Hi All,
Here is the final version of PSPSim the SamCoupé Emulator for PSP.
For those who haven't seen previous versions, SimCoupe emulates a SAM Coupe - an 8-bit, Z80-based home computer released in 1989 by Miles Gordon Technology.
For more information on the machine itself, including history and technical specification you can go on the
SimCoupe web site
.
What's new in version 1.2.1 :
- Many optimizations to speed up the emulation in
z80, video and sound emulation part.
Many games are now fullspeed (50 fps) even at 222Mhz !!
- Many new render modes and screen size options
(normal, fit, max etc ...)
- The emulator window can now be moved to fit the screen properly
- Add new hotkeys to setup render mode etc ...
- Bug fix in the low battery watchdog
- RTrigger/LTrigger keys can be used in the keyboard
settings menu to navigate between Normal, LTrigger
and RTrigger compose mapping.
- Default Hotkeys can now be set in the keyboard mapping menu
(useful to add hotkeys on existing/previous keyboard files)
- Code cleaning
Big big thanks to Nick666
How to use it ? Everything is in the README.txt file.
Sources are included, and this package is under the GNU public license,
read COPYING.txt file for more information about it.
pspsim-v1.2.1-fw3x.zip
pspsim-v1.2.1-fw15.zip
pspsim-v1.2.1-src.zip
Enjoy,
Zx.
PS: If you're looking for good games, try the Nick666 pack :
here
If you want to discuss on this emulator, you can do it there :
zx81's forum on dcemu network
or
zx81's forum on qj.net