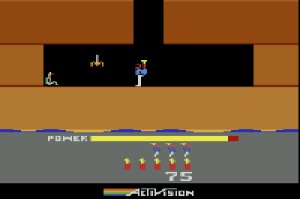 Hi All,
For gamers who have missed previous versions, Stella is on of the best emulator of Atari 2600
game console, running on many different systems, such as Linux, Solaris, Windows,
MacOS/X, WinCE, OS/2, GP2X.
It has been written initially by Bradford Mott, see
Stella site
for details.
PSP2600 is a port on PSP of the version v2.2 of Stella. It's based on the work of Aenea.
It has been developped on linux for Firmwares 5.0-m33 and 1.5
Special thanks to Horeus for his nice icons and graphical stuff !
What's new in this version ?
- New graphics from my good friend Horeus
(see http://www.ultimatepsp.fr/)
- New Eboot music
(see http://www.jamendo.com/en/artist/pako)
- Cheat support (but it doesn't work with all games)
- Finally fix issue with "Home -> Exit" !
- Add documentation for settings in help menu
- Improve file requester with virtual keyboard to choose
sequentially rom files beginning with a given letter
- Text editor to write your own comments on games
- Display first comment line while browsing game files
- Add hotkey to change flicker mode
- Memory monitoring engine to find your own cheat code !
- Text editor to modify the global cheat.txt file
How to use it ? Everything is in the README.txt file.
Sources are included, and this package is under the GNU public license,
read COPYING.txt file for more information about it.
psp2600-v1.2.0-fw5x.zip
psp2600-v1.2.0-fw15.zip
psp2600-v1.2.0-src.zip
Enjoy,
Zx.
If you want to discuss on this emulator, you can do it there :
zx81's forum on dcemu network
or
zx81's forum on qj.net