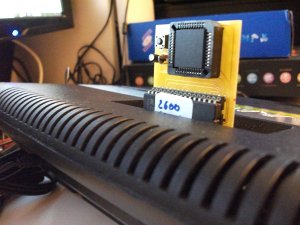 Hi All,
With my good friend Buzz, we have designed a cartridge with 255 games for the Atari 2600 and 7800.
Here is the schematic if you want to realize your own version :
on buzz web site
.
You will find here, an archive with the binary image to be flashed on the eeprom 27C801, but also the code source of the loader. This "loader" is based on the "A text adventure game/engine for the Atari 2600" developed a while ago by Greg Troutman in 1997.
Archive of the ffin1 loader
.
Cheers,
Buzz & Zx