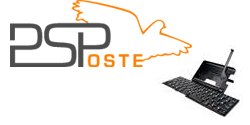 Hi all,
Here is a release of PSPoste the famous email client application for PSP written by David Cummings, Ben Biron and Sajeeth Cherian (see http://www.psposte.org for details).
My contribution to this projet is MINOR, all credits should remain to original authors !
What's new then ? it should now supports more than one IR-keyboard model

!
The IR keyboard stuff is based on the work of Harald Fielker (author of the PSP IR Keyboard Library).
This version has been tested using a Targus Universal IR Wireless keyboard, and see README-IRKBD.TXT for details.
It is distributed under GNU licence, and sources are provided.
binary version for firmware 1.5
binary version for firmware 3x
source code
Enjoy,
Zx.
**
UPDATE **
For those who want to import their contact list from Outlook, Sylvain provides them a useful application available here on his blog :
http://sylvain.nawrocki.free.fr/blog/
If you want to discuss on this emulator, you can do it there :
zx81's forum on dcemu network
or
zx81's forum on qj.net