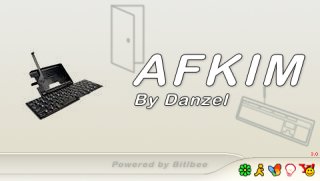 Hi all,
Here is a new release of AFKIM (Away From the Keyboard Instant Messenger), the instant messaging application for PSP written by Danzel !
My contribution to this projet is still MINOR, all credits should remain to Danzel
(see
http://localhost.geek.nz/
)
What's new then ?
- Improve IR keyboard handler, it's now usable everywhere (menus & window) !
Have a look to the file README-irkbd.txt for mapping informations etc ...
The IR keyboard part has been tested using a Targus Universal IR Wireless keyboard.
afkim-v3.2.1-bin-fw15.zip
afkim-v3.2.1-bin-fw3x.zip
afkim-v3.2.1-src.zip
**
NOTE **
: Previous versions of AFKIM (v3.1 and earlier) works fine with the Pikey driver (IR keyboard driver from Fanjita), so if you have Pikey already installed on your PSP, this version is may be useless (more stable ?).
If you want to use AFKIM v3.2.1 and you have Pikey installed you should disable it while launching this version.
This should be my last contribution to this homebrew,
Enjoy,
Zx.
**
UPDATE **
: If you want, cubiCPixel has designed a new theme for AFKIM, and you can download it here :
on qj.net
If you want to discuss on this emulator, you can do it there :
zx81's forum on dcemu network
or
zx81's forum on qj.net