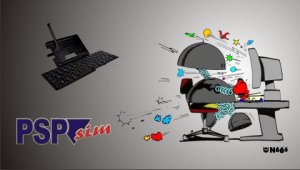 Hi All,
Here is a new version of PSPSim the SamCoupé Emulator for PSP.
For those who haven't seen previous versions, SimCoupe emulates a SAM Coupe - an 8-bit, Z80-based home computer released in 1989 by Miles Gordon Technology.
For more information on the machine itself, including history and technical specification you can go on the
SimCoupe web site
.
What's new in version 1.1.0 :
- IR keyboard support !
- Speed improvement
- New speed limiter function
- Add option to display fps rate
- Now compatible with custom firmwares 3.x and PSP-slim
- Add a simple intro splash screen
- Option to prevent the blue led to be displayed when
L or R are pressed
- New help menu
- Support iso8859-1 fonts in print text functions
(might be useful to translate menus in german, french ...)
- Bug fix and code cleaning
Big big thanks to Nick666
How to use it ? Everything is in the README.txt file.
Sources are included, and this package is under the GNU public license,
read COPYING.txt file for more information about it.
pspsim-v1.1.0-fw3x.zip
pspsim-v1.1.0-fw15.zip
pspsim-v1.1.0-src.zip
Enjoy,
Zx.
PS: If you're looking for good games, try the Nick666 pack :
here
If you want to discuss on this emulator, you can do it there :
zx81's forum on dcemu network
or
zx81's forum on qj.net