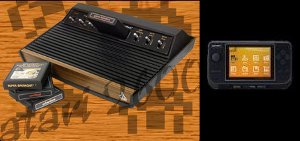 Hi All,
Stella is on of the best emulator of Atari 2600 game console, running on many different systems, such as Linux, Solaris, Windows, MacOS/X, WinCE, OS/2, GP2X.
It has been written initially by Bradford Mott, see Stella site for details.
Here is a port on GP2X-F100 of the version i've previously ported to PSP.
Many new features have been added compared to GP2X-F100 version.
Here is a copy of the changelog :
- Cheat support !
- New background images
- Text editor to write your own comments on games
- Text editor to modify the global cheat.txt file
- Display first comment line while browsing game files
- Memory monitoring engine to find your own cheat code !
How to use it ? Everything is in the README.txt file.
Here is a full working binary version :
gp2x2600-v1.1.0-bin.zip
Here is the source code :
gp2x2600-v1.1.0-src.zip
Enjoy,
Zx.
UPDATE: a 'joy' folder was missing, i've uploaded a new zip version (thanks to Neil for his feedback).
If you want to discuss on this homebrew, you can do it here :
My forum on
dcemu network
or
http://www.gp32x.com/
.